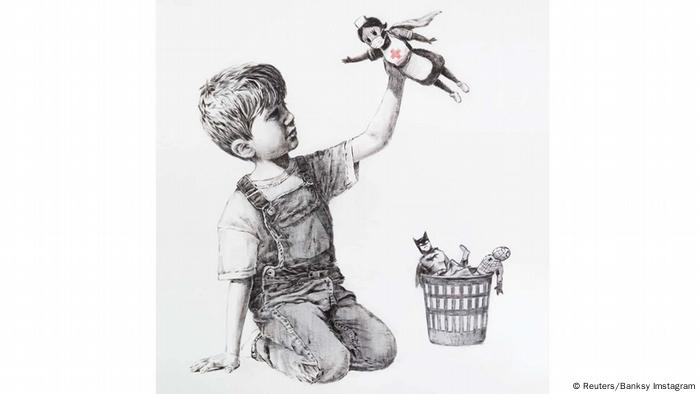 This little drawing Banksy made in black and white sold for almost 17 millon Pounds Sterling, and Banksy said it would be donated to the British National Health Service. It was sold on Tuesday, 20 MAR 2021, in London for 16,758 million pounds, the equivalent to 23,1 millon US dollars.
Splendid…
So, has this pandemic generated any interesting art? I frankly do not really think that "Game Changer" is interesting at all and it doesn't say anything about the devastating effects of the pandemic. I don't see dancing skeletons, like they painted during the plague pandemics of Europe in the Middle Ages. I don't see any suffering, any death, any illness. I don't even see any masks or gowns that have become so popular with this pandemic. All I see is a child playing with a doll that happens to be dressed as a nurse. Yes, it is well crafted and technically rather sound, but reference meaning? I find nothing. I don't know, nor I suspect any of us will ever know who purchased this little drawing for all that money, but they must have had their reasons…
And now I ask of all you artists out there, have you been motivated to create anything that has to do with the COVID pandemic of 2020? I've seen some pretty lame stuff on the internet. Most artists are creating pretty little paintings of the virus, looking so otherworldly and quite beautiful, painted greenish or reddish or colours in between that spectrum. Lots of paintings of the heroes of the pandemic, doctors, nurses, health care folk, but not too many focusing on the pain and suffering and ultimately death brought about by this virus…
I guess you have guessed by now that I use this journal to rather vent and even preach a bit. Yes, I do, and that's what it's for. It is my way of saying things that I think are important that I would not say in a post or in anything else that I do. It's like a conversation with myself. I think that as artists, poets, writers, photographers, dramatists, actors, dancers, singers, composers, musicians, architects et al, we've a duty to express what we like or dislike of society and of the things brought to our society. We have been trained, we have been educated and we have experience enough to fully be conversant on many other issues than our own careers and we have to speak up for everyone else, regardless of whether anyone listens to us or not. Those who do not want to get involved are really not keeping up with their responsibilities, but it's ok, the world has become an "I, Me, Mine" experience anyways.
CHEERS!