This is something I decided to start today for 2021 and it is a type of diary, or my journal.
Well, a few weeks ago, at the beginning of the year (2021) I published a post that announced what I would be doing on a daily basis with Omnia Caelum Blogs and I said I would still post the "Artists Series" but it would be spread throughout the weekend…some think of the weekend as Friday, Saturday and Sunday…and that I would do it in three parts. Ok, so this weekend I only had time for two and one of them is not an artist…well she is but not a painter…but I had things to do.
So I took a day trip to Fanzara…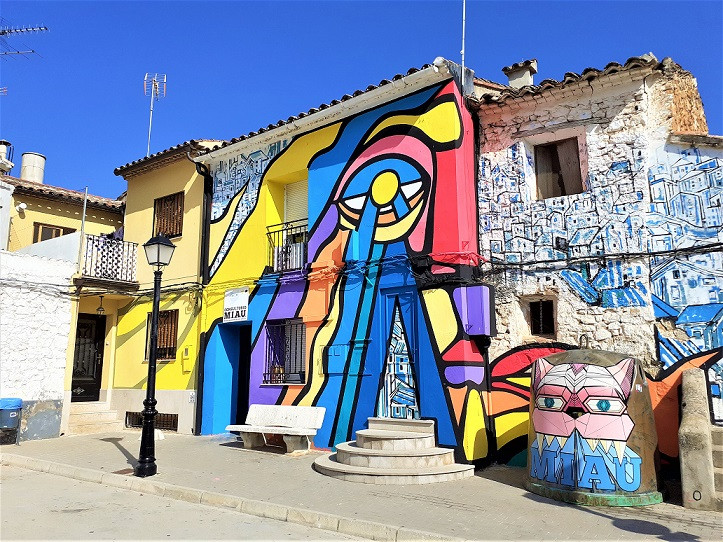 "Fanzara es un municipio de la provincia de Castellón perteneciente a la Comunidad Valenciana, España. Situado en la comarca del Alto Mijares" (eso dice Wikipedia), Fanzara is a town in the province of Castellon in the Comunitat Valenciana, Spain in the area of Alto Mijares), according to Wikipedia). So I spent the day there with friends, taking a lot of photographs because it is truly a beautiful place and many of the houses are the convases for very nice murals, therefore I could not produce my third artist…
I am working on a big job, it is a series of paintings that depict a family's travels from one country, through another country to finally reach Spain, four stops. Any ideas? (I know I did not give details but that was on purpose). So, what does that mean? It means that I may not be publishing on a daily basis for a while…
One thing I must say is that I am watching the North American series "Homeland". I am watching it on Netflix and I am now in the 7th season. I find the show somewhat disturbing, somewhat absurd and very interesting. I know that it sounds like a paradox. But the show gives very bad examples of what the United States CIA is all about. It seems to describe a criminal organisation that has to violate all laws and mores to "get the job done". It features a mentally ill woman who constantly gets "off her meds" to accomplish what she thinks of as great things. The others all violate their own laws and they justify their actions by saying they are defending democracy. So the message is that to defend democracy you have to act like a killer thug? A bipolar nut as a CIA officer? That is absolutely ridiculous. All I can say is that I love it because of its dramatic value but that it gives bad examples to young people…if they are actually paying attention, which I doubt…of how government officials should behave. And another thing is that it is either a game plan for things to come or the writers were prophetic…hmm…
Let's see what this week offers. I only look on the positive side of life, so I leave you with this…
CHEERS!