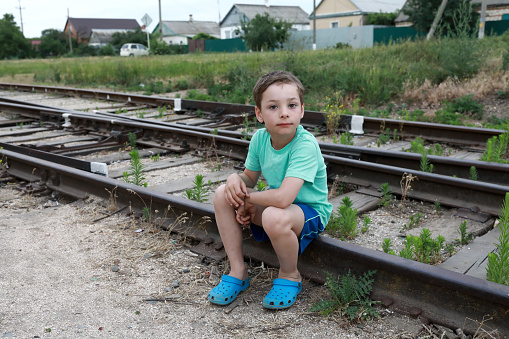 I'm just a tiny speck of light, an angel some may have considered me, or perhaps they still do…
I'm just a little boy sitting on the railroad tracks,
turning to the cold, damp air, my back,
looking, I think, like many others
and waiting for big brother I have breathed my last…
A hole was all I had, it was my home, I made it from dark corners so that no one else could see I was alone…
My skin was melting fast beneath the red-hot angered leather,
and my ears were shattered by most angry screams,
my tears blurred out my eyes,
and reddened the sky that shed its rain above me,
a rain of painful blows and crooked smiles.
Then, instead of running off to school, when morning came,
I floated on a wisp of wild emotion,
I looked beneath me and saw birds,
they too could fly!
I rested on the tracks, so distant, lonely
I rested until finally inside,
a brightened light seemed far too sweet and closely,
I could see him, my brother dancing above clouds that filled the sky.
With open arms he welcomed me and loved me
and finally I was allowed to smile…
C.2020, Francisco Bravo Cabrera, 30 NOV 2020, Valencia, Spain