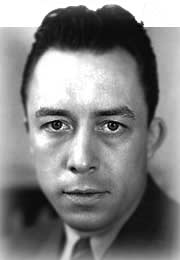 "Man is the only creature who refuses to be what he is."
Albert Camus was born in Mondovi, French Algeria, on the 7th of November 1913. Again no one can deny that Camus was an artist. He was a novelist, a journalist, a philosopher and a Nobel Prize winner. He won the Nobel Prize for Literature in 1957 at the age of 44. His greatest influence came from Schopenhauer and from Nietzsche (and other German existentialists).
Camus, after WWII (he spent most of the war in France), became politically involved. He joined the Left but opposed the Soviet Union. Camus condemned totalitarianism. His leanings were towards anarcho-syndicalism. Another political activity he engaged in was being active in many of the organisations that sought European integration.
Something interesting: Although many consider him an existentialist…like Sartre…he rejected that term all his life. He sort of belonged to the group known as the absurdists. Camus was a moralist. He stood firm against Marxists who belief that history defines morality.
Camus leaned towards Anarchism. He stood against any kind of exploitation by the "state", against the supposed authority of the "state" and refuted the idea of property of the "state", against the bosses, and certailny against centralisation. He believed in the syndicalist structure for government.
So, what about his "artistic" contribution?
Here is a list of his novels, ever read any of them?
Yes, I read The Plague…
Novels by Albert Camus:
A Happy Death (La Mort heureuse) – written in 1936–38, published in 1971
The Stranger (L'Étranger) – written in 1942
The Plague (La Peste) – written in 1947
The Fall (La Chute) – written in 1956
The First Man (Le premier homme) – an incomplete novel published in 1994
Other things Albert Camus said:
Reference the Algerian war an terrorism:
"People are now planting bombs in the tramways of Algiers. My mother might be on one of those tramways. If that is justice, then I prefer my mother."
And I will finish this Part II with a quote from Camus that I find interesting and transcendental:
"The only way to deal with an un-free world is to become so absolutely free that your very existence is an act of rebellion."
THANK YOU!
Please watch the companion photo montage video on the quotes of Camus, Mick Jagger and Rudolf Nureyev.