He made 90 cans! Ninety cans of "artists' shit" and he sold them all! And he sold them at the price of gold! Piero Manzoni said that since he was an artist, everything that he did and everything that came out of him was "art". However, no can has ever been opened, so we really don't know what is inside. They say that if the can is opened it will lose its value. But what value? The value of shit?
This is what the can's label said: Contains 30 grams, conserved naturally, produced and canned in May 1961. It is written in several languages, English "Artist's Shit", in French: "Merde d'artiste", in Italian: "Merda d'artista", and in German: "Künstlerscheiße". All the cans were numbered and signed on the top portion. Thirty grams, sold at the same price of 30 grams of gold…
Just to show you how crazy this "art world" is, some of these cans are exhibited, and still found in some well recognised galleries. Among these is the Museu d'Art Contemporani of Barcelona, the Centre Georges Pompidou of París, the TATE Gallery of Londres and finally, of course, the MOMA of Nueva York. I always knew there was a lot of that which is in those cans in those places!
That was Piero Manzoni. I love this guy! He was a hater of the vainglorious fools who value the art of the talent-less, and a major "troll" who worked against the capitalist domination of the art world. He goofed them all! Finally he said he patented the colour white and called himself the "white monochrome artist" and painted, or created his "works" all in white.
Why did he call himself the "white monochrome artist"? Because he was "trolling" Yves Klein, the French artist who created Nouveau Réalisme in 1960 together with the art critic Pierre Restany, and who had "patented" the "international Klein Blue" and who, naturally called himself the "monochromatic blue artist".
So, when Manzoni visited an Yves Klein expo and saw Klein's blue paintings, he said fine, you are the "blue" artist and I am the "white" one. Manzoni once approached Klein and proposed that they work together but Klein passed on him royally…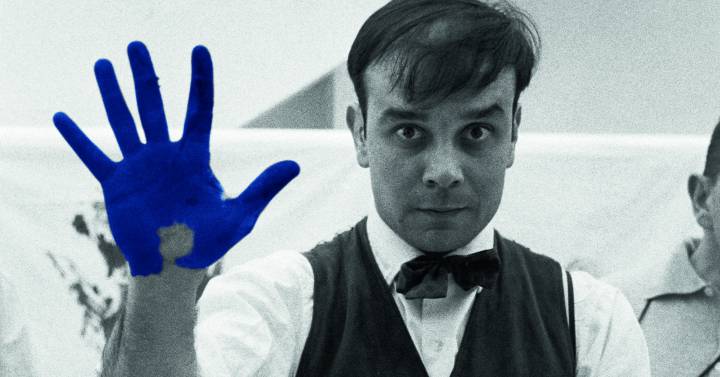 Piero Manzoni was born in Soncino, Lombardi, on the 13th of July 1933. He was an Italian artist, well, a conceptual artist. One of his "works of art" was his own air, which he bottled and sold as "artists' breath", and another was eggs with his fingerprints…
Another famous one was his Lines. He would write lines on rolls of paper, some of the rolls were several metres in length, then the rolls were sealed and all you saw was his signature. Those who purchased this artwork had to imagine what was in them. Then he topped it off by creating the "Linea di lunghezza infinita", which was a wooden cylinder which contained a "conceptual" line that existed ad infinitum…
Finally, in 1961 Manzoni exhibited at the La Tartaruga gallery in Rome. There he introduced his living sculptures. What were they? Simple, he would sign his name on people and thus he turned them into living works of "art". Some of the people he converted into art were Marcel Broodthaers, Umberto Eco, Emilio Villa and Henk Peeters. They all received certificates of authenticities.
Brilliant!​
Piero Manzoni died in 1963 from a heart attack.
Please see my companion piece, a short photo montage video of Manzoni's greatest works, of course with original music by AJA (Abstract Jazz Arrangement http://www.cdbaby.com/cd/aja).
CHEERS!