Remedios Varo Uranga. (16 DEC 1908 – 8 OCT 1963). Remedios was born in Spain and died in Mexico. She was only 54 years of age and was on the verge of being recognised as a viable artist, when she suffered a heart attack and died. She is thought of as being a surrealist painter but truly she extended her work far and away from one single style. Although she did partake of the knowledge and learning of the surrealists, she continued forth creating in a much wider scope. I would say her work is more related to literature and to dreams than to surrealism…
Here is a good example showing the depth of her work:
______________________________________________________________________________
2. Leonora Carrington. (6 APR 1917 – 25 MAY 2011). Leonora was born in England and died in Mexico (like Remedios Varo). A rebel since youth, when she used to skip classes at Catholic School, she was one of the founding members of the Women's Liberation Movement in Mexico in the 1970's. She also rebelled against the "troupe" of surrealists. At a meeting with surrealists, she was asked by Jean Miro to go and buy them (the men) tobacco, and she promptly told him that if he wanted tobacco he should go fetch it himself. Leonora did not really enjoy a happy life in her younger years. She lived with Max Ernst, whom she met in 1937 and with whom she lived with for three years. She fled to Spain after Ernst was arrested in France during WWII and was placed in a mental institution by her father. She was able to escape with the aid of Renato Leduc, (a friend of Picasso) who agreed to an arranged marriage so Leonora could reach Mexico.
This is a very interesting painting:
______________________________________________________________________________
3. Dorothea Tanning. (born 25 AUG 1910 in Illinois; death, 31 JAN 2012 in New York). Dorothea was a painter, a sculptor and a writer. She was also an illustrator and as well designed costumes for ballet and theatre. In 1942 she met Max Ernst and married him in 1946. Max Ernst introduced her to the surrealists. She worked surrealism until she changed to impressionism. In the 1970's she started doing soft sculptures. I would not really label her a surrealist painter. Her paintings depict more dreams, illusions, fantasy. She always alluded to maintaining a state of innocence and I believe that most of her works are self-portraits where she places herself, in a psychological concept, in most of her paintings. She said art was either poetic or repugnant and she tried to always paint poetry. It has been said that her last phase of work was abstract, but I have seen the paintings and they are completely figurative. Dorothea Tanning was never an abstract artist.
This is an interesting representation of her work. Look closely at the details: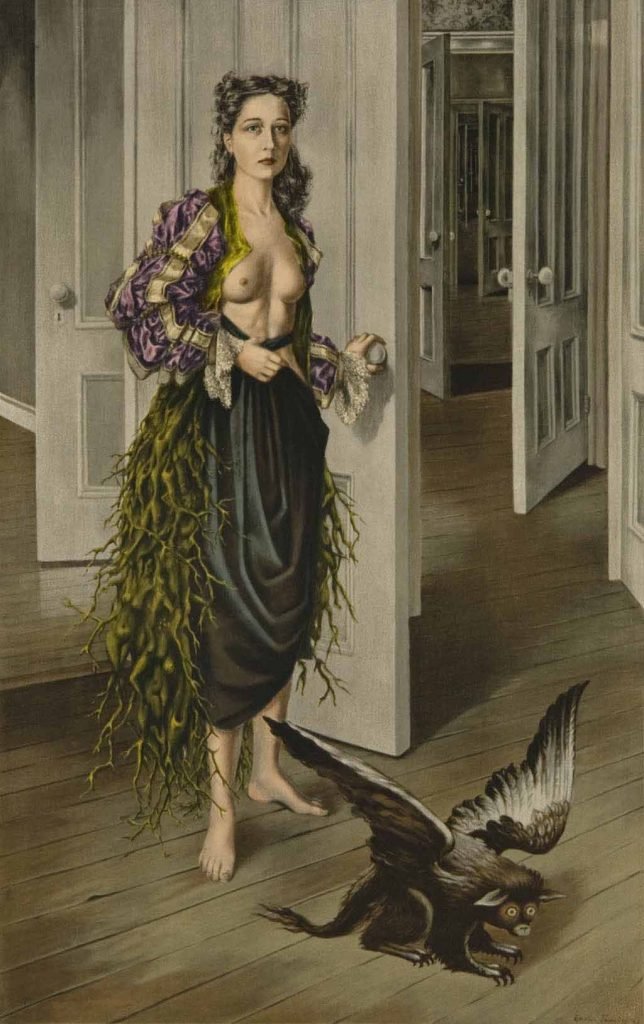 ______________________________________________________________________________
I have chosen three of my favourite women artists (of all times). I could name many others, especially one that I will soon write about, Louise Bourgeois, the French painter and sculptor, later nationalised as a US citizen. Some of these artists are not featured in many museums, of course, these that I have named are but do they share equal space with some of the male counterparts of the same styles or schools of painting they belonged to? Hardly. I believe that they should take down some of the Miro and Dali and replace them with some of the work of some, or all, of these tremendously talented female artists.
And these are only of the XXth Century, what about previously? There were no female artists painting in the Xth, XIth…XIVth Centuries? Of course there were. I will prepare an article about those women. Many of them have been unjustly taken down from museums, one suffered the indignity of having her signature washed off her work, and one had to prove, before the people of her town, that it was she who painted as the people thought it was the work of her father, who was a painter…
I urge you to research and look for books or films (YouTube video or even Wikipedia) about these incredible artists that have given so much to art history and art in general.
I can also write about female "artists" whom I have no use for and can begin the "top" with Yoko Ono and Frida Kahlo.
I hope you liked this and if you did, well, please hit that like button, share and follow BUT also comment. I think it would be a good idea to develop interesting discussions (civilised naturally) about art and artists that we like or dislike)
You can see my artwork on Instagram: @Francisco_Bravo_Cabrera
and online galleries at http://www.ArtPal.com/rfbravo1155
THANKS!